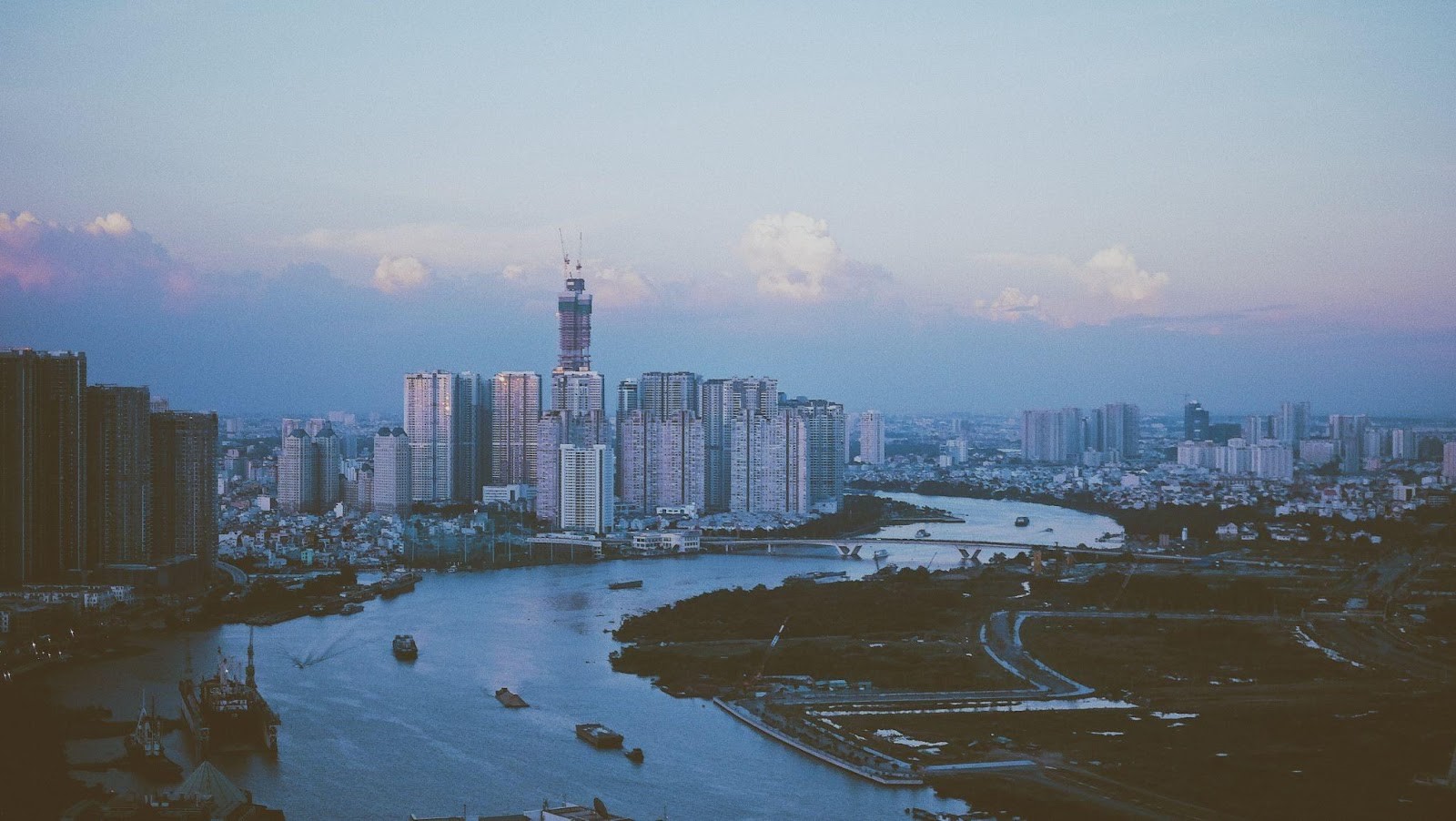 With Vietnam moving towards developing sustainable cities in 2030, green buildings have become one of the critical areas of the country's urban development. Vietnam's construction market value estimated at around USD 86.9 billion at the end of 2021 despite the recurrence of the COVID-19 pandemic inevitably slowed down several significant projects. The sector's primary gain came from residential, taking 39 percent of the market shares, followed by transport infrastructure, social infrastructure, industrial, and commercial.
However, Vietnam's commercial and industrial developments are leading the way towards green products, with the proportion of green establishments taking 81 percent of the entire sector's assets. Other construction segments are still in their nascent stages, albeit the government's focus on energy efficiency since 2005. The reason being Vietnam's government has previously managed regulations and policies exclusively for public projects. However, today, Vietnam's officials have expressed their interest in collaborating with the private sector to formulate key developments beneficial for benchmark projects.
Smart and Green Buildings
While green buildings in Vietnam have initially appeared in the landscape since 2013, Vietnam is leaning towards green and smart buildings to converge with efficient energy consumption, gearing for optimization of ergonomic comfort enhancement. Smart buildings have only been familiarized since 2017, but the COVID-19 pandemic has pushed the urgency of automation. With the rise of technology, Vietnam's construction sector is looking at an integrated connection between various building systems, reshaping how building owners and residents use technology to engage with surrounding environments.
Albeit still nascent, Vietnam developers have accepted the initial adoption of sustainable developments and green buildings. LOTUS-certified buildings have been particularly robust by project number growth alongside LEED-certified buildings. Moreover, green materials are also gaining traction as the critical element for green developments. Both the government and the private sector have recently agreed to enforce the usage of green materials to reduce VOC and formaldehyde.
Green Construction Principles
Primarily, Vietnam focuses on four primary materials for green buildings. The four focuses are: ecological green building material, which is wood-based produce that is sustainably grown and produced, a high-performance green building material that contributes to the project's improvements such as reducing heat energy, recycled green building materials, and healthy green building materials that possess limited to no VOC and formaldehyde. Other initiatives for green building materials include sourcing materials with permissible levels of organic chemicals, replacing clay-fired brick with concrete, and revolutionizing the implementation of double-skinned unitized panels for low energy emission. The measures would help Vietnam reduce the impact on the environment and human health by developing adhering to green building principles.
Following the initiatives, the government has launched a series of regulations covering building materials to gradually eliminate outdated construction materials in manufacturing plants and encourage new institutes to promote new mechanisms for scientific research and developments. The change in the regulatory framework would eventually allow practical and economic improvement of manufacturing equipment capacity for environmental protection within production. Currently, regulatory restructuring focuses on cement, ceramics, sanitary wares, construction glass, clay-fired bricks, unburnt construction materials, sand, and concrete.