The COVID-19 has significantly disrupted key industries among Southeast Asian countries, particularly those heavily reliant on tourism and hospitality.
The virus resulted in a series of border closures, national lockdowns, and a steep rise in unemployment level, forcing the governments to release massive stimulus and accommodating spendings for the wellbeing of their countries.
Weak Performance in 2020
2021 greets Southeast Asian countries with uncertain prospects regarding the period of economic reopenings.
While some stand upon an optimistic outlook, the achievement of optimistic forecasts mostly depends on the COVID-19 vaccine rollout implementation, management of sporadic rise in the COVID-19 cases, and exit strategy from the national lockdowns.
Preliminary estimates of the 2020 GDP growth of the five key Southeast Asian countries seem challenging, with only Vietnam recording a positive GDP growth compared to the previous year of 2.6%. Indonesia has recorded a retraction of -2.4% after a continuous record of approximately 5% since 2014.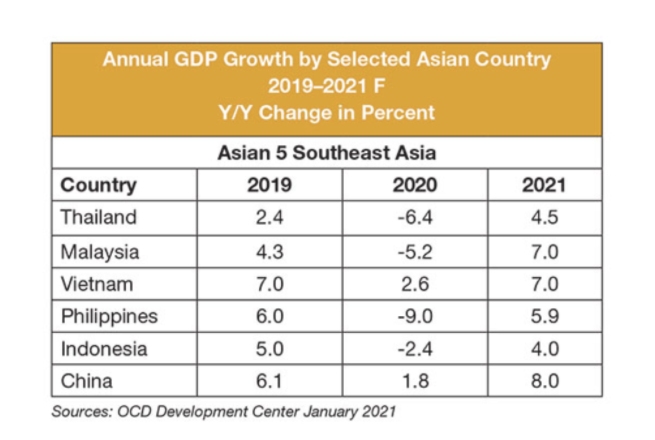 Malaysia experienced a steep recession of -5.2% GDP growth, following weak performances in the previous years. Similarly, Thailand experienced a GDP fall of -6.4%. But the lowest GDP retraction was recorded in the Philippines with -9% last year.
Global Demands of Medical PPEs and Consumer Hygiene Products
Regardless of the recessions and weak performances in 2020 resulting from COVID-19, the five Southeast Asian countries grasped a surge of traffic for the nonwovens industry.
The massive demands for medical PPE, such as medical suits and masks, both for domestic uses and exports, have become the backbone of nonwoven substrate production.
Markets for hygiene consumer goods, such as disinfectants and cleaning wipes, have soared due to consumer behavior shifts.
The favorable demographics of emerging countries in Southeast Asia, alongside the rapidly active economic conditions, business-friendly environments, and attractive export market demands, play an essential role in positioning the region as one of the highlighted regions this year.
Economic slowdowns and short-term downside impacts in the region's manufacturing investments and consumer spending expects to rebound through accommodating stimulus programs, notwithstanding the possibility of recurring stages of the COVID-19 pandemic.
Synergy of Capacity Enhancement
From 2015 to 2020, the development of fine denier spun bounded and spun melt polypropylene nameplate capacity in the region grew an average of 6.6% per year, with 185.000 tons in 2015 to 255.000 tons last year.
In 2020 alone, Thailand has installed 15.000 additional tons. Thailand and Indonesia have also contributed to the production of 20.000 tons each through Asahi and Toray. Moreover, Malaysia, through Fibertex, has also installed an additional 15.000 tons.
Fibertex plans to commission a Reifenhauser 5 line with an annual capacity of 15.000 tons, bringing the forecast of fine denier spunlace capacity to increase by 63.000 tons of 24.7% this year.
Southeast Asian spun bounded and spun melt refined denier producers will rely on exports to leverage the newly-established capacity utilization, considering the non-saturated emerging domestic market. Fibertex currently obtains the most considerable equity value in Southeast Asia, with a capacity of 85.000 tons.
As Southeast Asian countries enhance their production capacity, fine denier businesses seek to provide materials for nonwoven demands worldwide, relying on the shifting consumer demands to maintain the consumption of consumer hygiene products regardless of the presence of the COVID-19 pandemic.